Tape Decks, Tape Loops, Tape Bags & Flags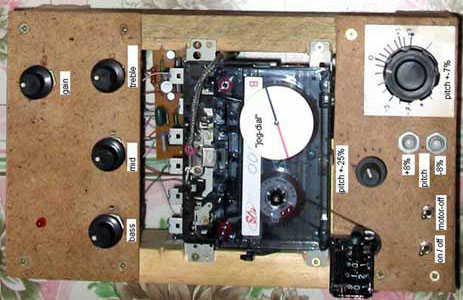 For someone like me, who once dabbled in DIY audio electronics – but never got beyond building shitty theremins and distortion units, and mounting them in Chinese takeaway containers – this is a thing of rare beauty. It's one third of a cassette DJ set-up (not pictured is the other cassette deck and a mixer) built by Russian tinkerer extraordinare, DJ Aptem (that's a direct transliteration from Cyrillic; apparently DJ Artyom is more phonetically correct). As you can see, it not only has EQ knobs, but a motor-off switch, a jog-dial, and fairly sophisticated collection of pitch-shifting controls. Audio samples of this set-up in action can be downloaded from DJ Aptem/Artyom's website, and there is a photo of him in action on flickr.
Like DJ Aptem/Artyom, Loop Orchestra rely on looped audio tape as the sole source for their music; but, in their case, there are no cleverly-modded gadgets trying to emulate modern DJ rigs. Everything is the product of a mixer and five middle-aged men threading tape loops over the spools of reel-to-reel tape machines; carefully layering them to produce hypnotically repetitive soundscapes. For the past twenty years, they have been plying their trade on the Sydney underground music scene; emerging to do a gig once or twice a year. In that time, they have released only 3 albums. The most recent one is Not Overtly Orchestal which can be purchased through Amazon. If you want to hear some of the Loopies' work, they have Real Audio samples on their web site.

Finally, word has reached Rummage that Alyce Santoro wants your cast-off cassettes "especially vintage mix tapes, experimental stuff, homemade recordings of local sounds, rants, raves, chants, folk and indigenous musics, stuff that maybe you've been hesitant to part with"… And what will become of your old tapes if you send them off to her? They'll be passed on to a women's co-operative in Nepal who will weave them into reams of fabric that will be used make shoulder bags, thangkas, and banners that you can purchase from her website. And the best thing about these pieces is that they will retain the sounds recorded on the source tapes, so if you can pull the tape-head out of an old cassette player and wire it up so it still works, you'll be able to "play" them. (For more information about Alyce and her cassette-tape fabric creations, visit this earlier posting.)
Posted by Warren at
11:39 PM